Nordson Asymtek
NexJet System
Next generation jetting valve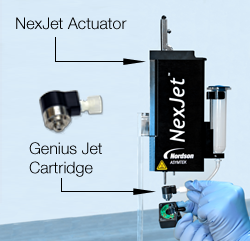 Easy to Use
In addition to incorporating many of the advanced features and innovations of Nordson ASYMTEK's previous jets, the NexJet System offers a unique, long-lasting, one-piece Genius™ Jet Cartridge* that makes the NexJet System sophisticated, yet simple to own and use. Every NexJet System ships with two Genius Jet Cartridges for maximum system availability.

Smart
The Genius Jet Cartridge has built-in memory to store its usage. An optional RFID transceiver in the dispense system communicates with the jet cartridge, reading the cartridge type and number of cycles, which is compared to the recipe to ensure a correct cartridge is installed. It also alerts the operator when the cartridge needs replacement - each cartridge lasts up to 50 million cycles, depending on the type of fluid used. This intelligence enables quality dispensing and consistently high yields.

Flexible and Capable
The NexJet System's advanced design also includes new precision software control of the jetting process enabling successful results with both low and high viscosity fluids. This added control expands the process window, ensures stable and repeatable results for high yield production, and broadens the range of jettable fluids and applications.
Nordson March
FasTRAK
Plasma System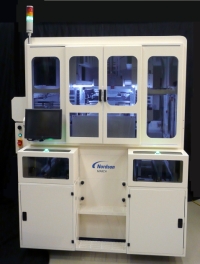 Features
- Flexible configuration accommodates the full range of strip dimensions and magazine designs
- Advanced robotic handling system minimizes strip hanlding, pushing, pulling and reduces operator intervention
- New camera-based material tracking provides 100% plasma treatment validation
-High-efficiency, application specific, plasma chamber desing offers Direct or Ion Free plasma treatment modes
- Significantly smaller system footprint and magazine reuse capability save space and help lower cost of ownership
Nordson Dage
Xi3400

Automated X-ray Inspection System
Features
- Nordson DAGE's versatile Xi3400 Automated X-ray Inspection System (AXI) offers complete inspection
of solder joints and other critical hidden features found in electronic assemblies, PCBs and packaged
semiconductors. Ideal for in-line or off-line operation, the Xi3400's innovative algorithms enable fast and
reliable automated inspection and real-time monitoring of critical process information.

- By leveraging the automation software techniques developed at Nordson YESTECH and combining with
Nordson DAGE hardware technology, including the patented Digitial Tomosynthesis Technology, the Xi3400
acquires multiple images in different slice heights in one inspection cycle. The images can discriminate between
components on the top and bottom slices of double sided boards for unimpeded automated inspection.
The utilization of standard package libraries simplify training and ensure program portability across
manufacturing lines. Newly available image processing technology integrates several techniques and inspection
algorithms, to provide complete inspection coverage with an extremely low false failure rate.

- The Xi3400 is the latest addition to Nordson's comprehensive range of test and inspection equipment
for electronic device manufacturers and related applications.